Father Of Badger Girls Who Died In Christmas Blaze Opens Up About Heartbreaking Loss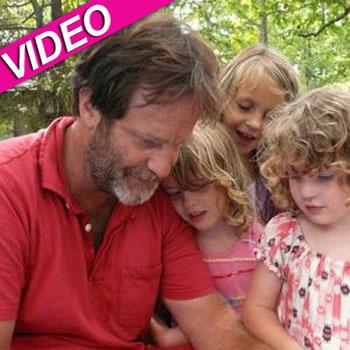 The father of three children who died in a Christmas Eve fire along with their grandparents has spoken out for the first time since the tragedy.
Matthew Badger is the ex-husband of Madonna Badger, the woman who lost her whole family when her Stamford, Connecticut home went up in flames after after yule log embers were placed unsafely in a bag in the back mud room, taking the lives of her seven-year-old twins Grace and Sarah Badger, Lily Badger, 10, and her parents Lomer and Pauline Johnson.
Article continues below advertisement
"I was with them for an entire week in my apartment," the mourning father told Good Morning America on Tuesday, as he recalled the last time he saw his daughters.
"It was dancing. We had our own Christmas tree and that photograph was when we had opened our presents they were all very happy."
Still struggling to cope with his grief, Badger revealed how he often looks at the final photo of that day. "It was very difficult to see … Why did this happen? I mean, it doesn't make any sense. And I'd just seen them the day before," he said. "The experience … of memories about their lives has been one of … tears. And every time I open up my computer and look at pictures of them, I am moved."
Madonna and her boyfriend, Michael Borcina, were the only survivors of the deadly blaze, and she was so wracked with guilt that she tried to kill herself in January, reported RadarOnline.com, and now remains in isolated mourning.
"It's really hard," explained her ex-husband "People treat their grief in different ways. Either they head straight into the wind or some people hide behind a rock."
Matthew is now trying to channel his grief in positive ways by launching a fund in memory of his daughters. The Lily, Sarah Grace Fund will offer money to elementary school teachers who incorporate the use of art -- a passion his daughters shared -- into their teaching.
Article continues below advertisement