Neil Patrick Harris: I Panicked When Oprah Visited My Home!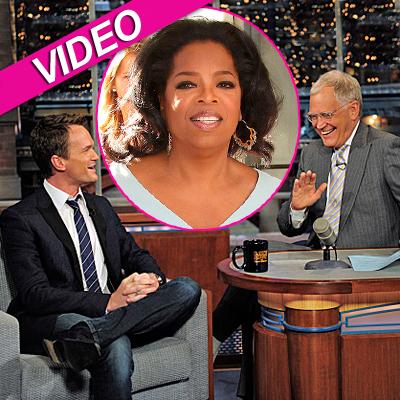 How I Met Your Mother star Neil Patrick Harris, appearing on The Late Show with David Letterman Tuesday, admitted it was a tad intimidating welcoming Oprah Winfrey into his home for an interview that aired on her network's flagship show, Oprah's Next Chapter.
"Now here's something I'm fascinated by -- Oprah … um, she was cancelled a few years ago," joked Letterman, who's had an on-and-off, decades-long feud with his fellow broadcasting legend.
Article continues below advertisement
The former Doogie Howser M.D. star, who lives with his partner David Burtka and their twins Gideon and Harper in Southern California, told Letterman that Oprah "came over and did an interview for a good five hours."
Letterman joked, "I bet that was nerve-racking," to which Harris said it made him panic a little, "because we don't have a gigantic mansion like someone like Julia Roberts has … we have a house!"
Harris said he felt somewhat intimidated as Oprah took a tour of his humble abode, to which Letterman joked that Oprah was "like Century 21!"
Harris said there was more security and panic about Oprah's arrival than a recent appearance he made at a fundraiser attended by former President Bill Clinton and the current commander in chief, President Barack Obama.
Watch the video on RadarOnline.com
Harris said he and his partner are "not ones to invite the media into our private lives," but Oprah "couldn't have been lovelier!"
"Oh, God bless Oprah!" Dave said.
Harris will host the Tony Awards, airing this Sunday at 8/7c on CBS.