Is Mindy Cohn Brangelina's Kid's Godmother?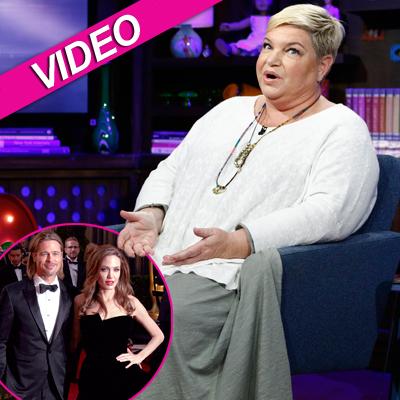 Is Mindy Cohn really the godmother to Brad Pitt and Angelina Jolie's six children?
Andy Cohen tried to find out and for the man who can get the Housewives to spill every single detail about their life, he had a more difficult time with Natalie from the Facts of Life.
On Bravo's Watch What Happens Live 'Plead the Fifth' segment Mindy was grilled about secrets from her sitcom days, where she fessed up that she was the first one of the girls from the show to lose her virginity and said there were many times when the show jumped the shark.
Article continues below advertisement
"When Edna's Edibles turned into a friggin store!" she joked.
Watch the video on RadarOnline.com
But when Andy asked her to put to rest the report that she is the godmother of Brad and Angelina's brood she looked like she might answer the question about the world's most famous brood.
Alas, the game is called Plead the Fifth, and unfortunately that's what she did.
Check out the clip to see Mindy squirm with the Brangelina question and to check out her very stylish super short hair do!