Angelina Jolie Doesn't Go 'Out On A Limb' At NYC Event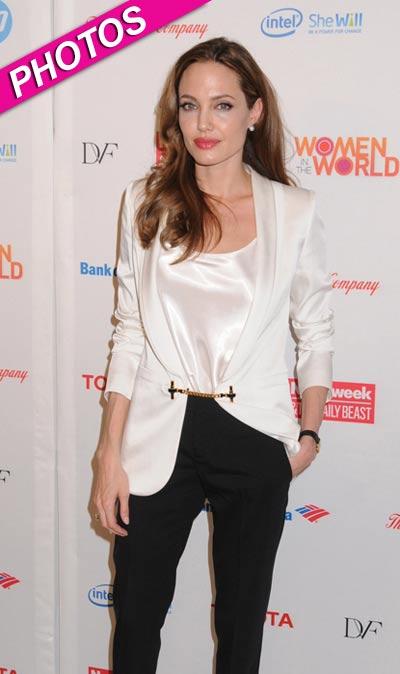 Those looking for another peek at Angelina Jolie's right leg left sorely disappointed Thursday night, when the queen of the A-list covered up the gorgeous gam (both of 'em, actually!) at the 3rd Annual Women in the World event held at Manhattan's Lincoln Center.
The 36-year-old partner of Brad Pitt -- who made international news at last month's Oscars when she preened in her now-famous stance -- played it a lot more conservative in the Apple Thursday, looking a tad thin in a white blazer with a loose chiffon top and black pants.
Article continues below advertisement
At the ceremony, the noted humanitarian, who made her directorial debut with last year's In the Land of Blood and Honey, continued to discuss the ongoing issues impacting Somali refugees.
Dr. Drew Says Scary Skinny Angelina Jolie Has 'Stigmata Of Malnutrition'
Angelina Jolie's Adoption Plans Destroyed Her Marriage To Billy Bob Thornton
She was hailed by Sandra Uwiringiyimana, a survivor of the Rwandan genocide, who said the actress is "doing incredible things" and "taking justice into her home and hands."