Exclusive
Angelina Jolie's Adoption Plans Destroyed Her Marriage To Billy Bob Thornton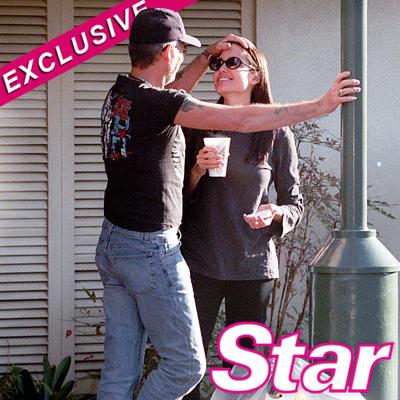 Angelina Jolie's desire for a family destroyed her marriage to her second husband, Billy Bob Thornton, Star magazine has learned from the actor's ex wife in a world exclusive interview.
Melissa deBin-Parish was married to the Bad Santa actor for two years, from 1978-1980, and reveals that his bizarre relationship to Jolie ended when the actress decided she wanted kids.
"I know beyond a shadow of a doubt that he did not want to be around children back then," Melissa told Star. "Look at the timeline: she adopted Maddox and then, Billy was gone."
Article continues below advertisement
The Academy Award winning star became a first-time mother to the little boy, now 10, when she adopted him from Cambodia in March 2002. Angelina and Billy Bob actually adopted him together, but Angie later sought and won full custody. Angelina's current beau, Brad Pitt, subsequently adopted Maddox himself after he and Angelina began their relationship. She filed for divorce from Billy Bob after just two short years of marriage.
Melissa told Star that she believed Billy Bob's marriage to Angelina was doomed from the start. "I think he cheated on his other wives. He had a problem with fidelity. Could you imagine cheating on Angelina?! That would be the dumbest thing in the world. How would he top that?"
She said she was surprised to hear that Angelina and Billy Bob were together because it seemed like an "odd pairing," telling Star: "But you just never know with people. I always wondered why they were attracted to each other. Here she is, this stunning woman. The two of them are total opposites. I thought it was baffling.
Article continues below advertisement
"Maybe it was their creative minds or intelligence. He is very charismatic."
After Billy Bob and Angelina split she told Barbara Walters that they had grown apart. "I thought he was amazing. And, now I just feel like I don't know him… We're not friends."
They've apparently come a long way in their relationship though, as Angelina is reportedly writing the forward to his memoir, The Billy Bob Tapes: A Cave Full of Ghosts, and that news shocked his first wife.
"I'm surprised," Melissa said. "I just didn't think that there was any interaction anymore. That's a very big thing to do. I'm glad she did it for him."
And, Melissa has nothing but praise for Jolie. "I heard through the family that Angelina was a very kind person and a wonderful humanitarian," she told Star. "The family never said anything negative about her. I think the biggest bond in his life is theirs."
Article continues below advertisement
Meanwhile, Melissa said that her own relationship with Billy Bob was also doomed from the beginning. "My daughter was 18 months old when we split up," she revealed of their now 32-year-old daughter Amanda Brumfield, who is currently serving 20 years in a Florida prison for aggravated manslaughter of a child. Melissa says that Billy Bob's goodwill hasn't extended Amanda, who has tried to speak to her dad from behind bars but has been ignored.