Angelina Jolie 'Didn't Pay Attention' To Everyone Talking About Her Leg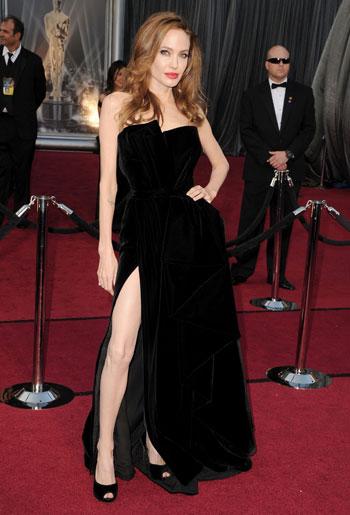 by RadarOnline.com Staff
Angelina Jolie insists she didn't select her Oscar dress with the thigh-high slit knowing it would cause a world-wide sensation.
Speaking out for the first time about her pose in the black Versace gown and how it spawned its own Twitter page and the term Jolie-ing, and was the top story for every entertainment news show on TV, Brad Pitt's mate told the Huffington Post, "I honestly didn't pay attention to it."
Article continues below advertisement
"I don't watch those TV shows and if I go online and see something about myself, I don't click on it. And the people I surround myself with don't really talk about that kind of stuff. Laughs. I heard something, but I didn't pay any attention.
"It's as simple as being a woman picking a dress you like and having a night, and not really thinking about anything else."
RELATED STORIES:
MORE ON:
hollywood happenings