Miami Teen Miraculously Survives Spear Through His Skull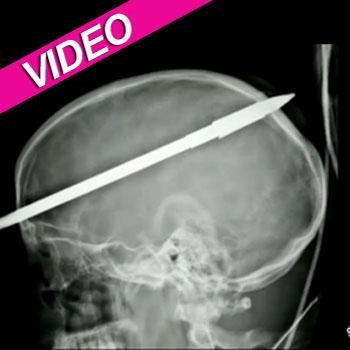 By Debbie Emery - RadarOnline.com Reporter
A graphic X-ray that looks like something out of a horror movie is actually the image of a teenager who was shot in the head by a spear, and miraculously survived.
The crystal-clear picture shows the spear, which was accidentally shot by a friend, going directly from end-to-end through 16-year-old Nasser Lopez's brain, reported the Miami Herald.
The bizarre accident happened on June 8 when the high school student was swimming in a lake near his southwest Miami-Dade home when the spear gun his pal was loading accidentally went off, triggering the three-foot weapon to plunge deep into his skull.
Article continues below advertisement
On Monday, the doctors from the University of Miami/Jackson Memorial Hospital and the Army Trauma Training Center staff who helped treat the teen revealed not only the unbelievable X-ray, but also that Lopez was lucky to be alive.
"It's a miracle the spear missed all the main blood vessels of the brain,'' said neurosurgeon Ross Bullock, as doctors revealed that they had to fight the urge was to yank the spear out of the teens' head, and instead used a rebar cutters and vise grips from the Miami-Dade fire department to stabilize it and then tease it out during a three-hour surgery.