Exclusive
It Was Lindsay's Fault! Lohan's Speeding Caused Traffic Accident With Truck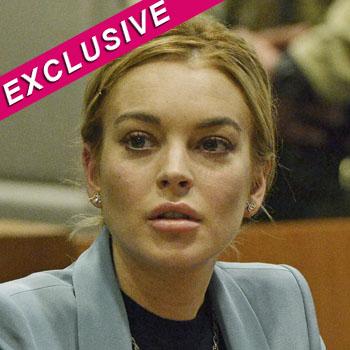 By Jen Heger - RadarOnline.com Assistant Managing Editor
The investigation into what caused Lindsay Lohan to crash into a truck on Pacific Coast Highway is winding down, and the contributing factor to the accident was the fact that the embattled actress was speeding, RadarOnline.com is exclusively reporting.
As we previously reported, Lohan, 25, rear ended the dump truck on Pacific Coast Highway on Friday, June 8. The Porsche, driven by Lindsay, was totaled and the accident sent the Mean Girls star and her assistant to the emergency room. Both were later released and miraculously didn't suffer serious injuries.
Article continues below advertisement
A source close to the situation tells us, "The investigation is almost complete, and Lindsay was speeding in the moments before the accident. She was probably going ten miles over the posted speed limit, which would have been around fifty miles per hour. There were no skid marks, which indicate that Lindsay was indeed speeding and didn't have time to even hit the brakes before she crashed into the truck. Lindsay is truly lucky to be alive, and that no one else got seriously injured. Lindsay could be cited by the Santa Monica Police Department for causing the accident, but it doesn't seem very likely. The police report and investigation findings will be turned over to Lindsay and the trucker, James Johnson's respective insurance companies. Lindsay's Porsche was totaled in the accident and was a complete loss."
Media reports circulated earlier this week that cops found a plastic bottle containing alcohol in the trunk of the car, however, Sergeant Richard Lewis of the Santa Monica Police Department told RadarOnlline.com, "There was no container retrieved from the vehicle. There was a container found in the debris by the side of the road but that doesn't mean it came from the car."
Last Friday, Lohan was treated for exhaustion after working all night on the set of the Lifetime biopic, Liz & Dick, about the relationship between the late iconic actress Elizabeth Taylor and Richard Burton. Lohan was found in the penthouse of the Ritz-Carlton on Friday morning in Marina del Rey, California, and paramedics were called.
MORE ON:
Celebrity Justice
Article continues below advertisement
"Lindsay worked a grueling schedule the past few days. She was on set last night at 7 p.m. and worked through the night until 8 this morning. She took a nap before shooting her final scene. Producers were concerned when she did not come out of her room and called paramedics as a precaution. Lindsay was examined and is fine, but did suffer some exhaustion and dehydration. Lindsay was never taken to a hospital; reports to the contrary are false. She is resting now and is hoping to be back on set later this afternoon," Lohan's rep, Steve Honig previously told us.