Exclusive
Lindsay Lohan Has Concerns About Nudity In Upcoming Movie!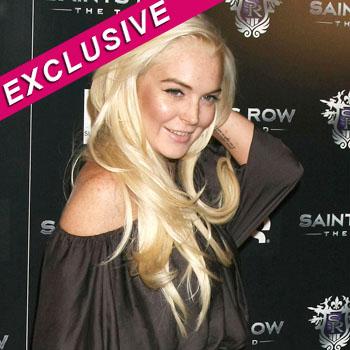 Article continues below advertisement
The description of the movie on Imdb is "Youth, glamor, sex and Los Angeles, circa 2012," which seems to be a perfect fit for Lohan. Her co-star is James Deen, a porn star whose most recent adult film is listed as Dallas: A XXX Parody. Deen was recently voted the porn industry's Male Performer Of The Year, and has starred in 4000 X-rated movies!
Even though Lindsay was cast in the role, it's not a done deal. "She hasn't officially signed the contract yet," a source close to the actress tells us.
"Lindsay and her team are concerned about the nudity that is involved. Lindsay would be required to do full frontal nudity, and the sex scenes are very, very graphic. Yes, Lindsay has posed nude for Playboy, but doing it in a movie is completely different. Lindsay needs to make sure that she is comfortable with it, and that this is something she can handle as an artist. It's expected that Lindsay will sign the contract in the next two weeks, as filming begins at the beginning of July. Lindsay has admired Bret's work for a very long time, and one of her favorite movies is Less Than Zero," the source added.
Article continues below advertisement
As RadarOnline.com has previously reported, Lohan rear ended a dump truck on Pacific Coast Highway last Friday. The Porsche, driven by Lindsay, was totaled and the accident sent the actress and her assistant to the emergency room. Both were later released and miraculously didn't suffer serious injuries. The Santa Monica Police didn't request a blood sample from Lindsay Lohan when she was in the emergency room after she rear ended a big rig truck.
"Lindsay was given a portable breathalizer test along with several other field sobriety tests and she passed them all. She did everything that was asked of her and cooperated fully. This is why the cops didn't request a blood sample from Lindsay, as they concluded that she wasn't under the influence and didn't need to be given a blood test. Lindsay was shaken up obviously about the accident, but that is to be expected. The cops told her that she was lucky to be alive, and her seat belt absolutely saved her life," the law enforcement source previously told us.