Oprah Asks Beaming Kim Kardashian: 'Is Kanye West Your New Fairy Tale?'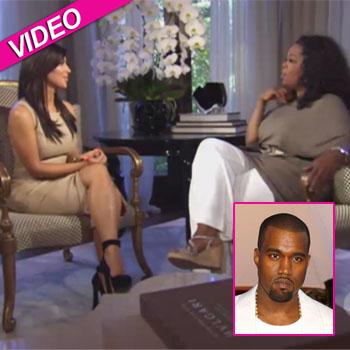 Kim Kardashian, in the second of a two-part interview on Oprah's Next Chapter, looked very much in love while talking about her new boyfriend Kanye West, but made it clear this relationship won't be moving as fast as her whirlwind affairs of yesteryear.
"Is Kanye West your new fairy tale?" Oprah asked the reality star.
"We met almost a decade ago, we've known each other for a very long time, we've been friends for six or seven years," the 31-year-old beauty said, beaming. "I don't know why it took us so long to get together: I think we've always had an attraction to each other, but we've always been in other relationships or it wasn't the right timing.
Article continues below advertisement
"One day it just happened -- it took me by surprise."
Kim denied her relationship with the All of the Lights singer has anything to do with getting publicity, saying, "It's your heart you're playing with.
"I couldn't sacrifice my heart for a publicity stunt."
She said Kanye's bad boy image -- behavior which spurred even the president to call him a jackass -- is largely based on media misconceptions. To illustrate the example, Kim said while many believe she's a L.A. rich girl living life in the fast lane, she hardly drinks and is a regular churchgoer.