Exclusive
Producers Of Dallas 'Begging' Victoria Principal To Appear On Show!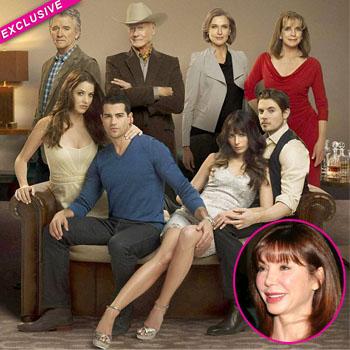 Article continues below advertisement
When we return to the Lone Star State, John Ross Ewing III (Josh Henderson), son of J.R. (Larry Hagman), is determined to drill for oil on family land. Meanwhile, cousin Christopher (Jesse Metcalfe), the adopted son of J.R.'s little brother Bobby (Patrick Duffy), has a secret plan to bring the family into the alternative-energy business.
Victoria Principal, 62, has a successful skincare line, Principal Secret, and she hasn't appeared on camera in years. However, the ageless beauty isn't ruling out reprising the iconic role. "The producers have been in talks with Victoria since the new series was given a green light. The producers are begging her to appear on the show. Victoria hasn't closed the door on returning to the show, even in a limited capacity. The producers have told her they will work around her schedule because they know how busy she is with her beauty empire, and she is a wildly successful businesswoman. It's the number one question that Patrick Duffy, who was Victoria's small screen hubby, Bobby Ewing gets asked, where is Pam Ewing, and is Victoria coming back," a source close to the situation tells us.
One wrinkle is that the show is now filmed entirely in Dallas, unlike the original which was filmed in Los Angeles. "Victoria views filming in Dallas as problematic because of her skincare line, and she is based in Los Angeles," the source says.
Meanwhile, there is an effort by Principal's fans on Facebook, "The Come Back To Dallas, Victoria Principal," to bring her back to the show. "Victoria wasn't as close to Patrick Duffy, Larry Hagman and Linda Gray, who have remained very close since the show went off the air. She has tremendous respect for them, especially Patrick. She is hesitant to come back because she feels that chapter in her life is over, but the producers are hopeful they can get her to agree to come back," the insider tells us.
Article continues below advertisement
The last time viewers saw Principal on Dallas, she had an unspecified terminal illness, and left Bobby and their adopted son, Christopher, to die peacefully. Bobby Ewing has since remarried and is now battling cancer, but that doesn't rule out Pam returning. "Remember, this is the show that had the infamous season when Pam's character dreamed that Bobby was dead. Patrick had left the show, and then had decided to come back, the only way they could get away with it was by saying that Pam had dreamed the entire season. It's safe to say there won't be anymore dream storylines, but it is Dallas, and it wouldn't he hard to bring Principal's character back, the only obstacle is getting Victoria to agree to it," the source says.