Casey Anthony Breaks Silence: 'Obviously, I Did Not Kill Caylee'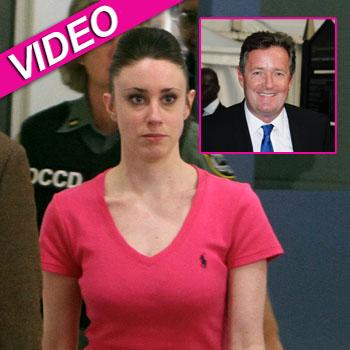 Casey Anthony broke her silence in a 10-minute phone interview with Piers Morgan Tuesday, saying, "Obviously, I didn't kill my daughter Caylee".
"If anything, there's nothing in this world l've ever been more proud of, and there's no one I loved more than my daughter," Casey said, calling the late child her "greatest accomplishment."
Casey said she's "ashamed in many ways" of her former behavior, but at 26 -- and having "gone through hell" -- she's matured.
Article continues below advertisement
As to the freewheeling reputation that plagued her image throughout her trial, she said she's "never been a party girl.
"I don't drink now," Casey said, adding she's "probably had a handful of beers" while on probation.
In response to claims she's looking to cash in on her notoriety, the "Tot Mom" said the perception "couldn't be further from the truth.
Watch the video on RadarOnline.com
"I'm not making gazillions of dollars at the hands of other people, or trying to sell myself to anyone willing to throw a couple of dollars at me," said Casey, who admitted various aspects of her life came off as "absolutely horrible" to the public over the past four years.
Casey has been passing the time (from multiple undisclosed locations) reading The Hunger Games books and watching I Love Lucy reruns, according to her attorney, J. Cheney Mason.
Casey was let off the hook on charges of first-degree murder, aggravated manslaughter and aggravated child abuse in the 2008 death of her 2-year-old daughter Caylee, when a Florida jury found her not guilty in July 2011.
RELATED STORIES: