Exclusive
Bradley's Obviously That Into Scarlett! Cooper & Johansson's Romantic Date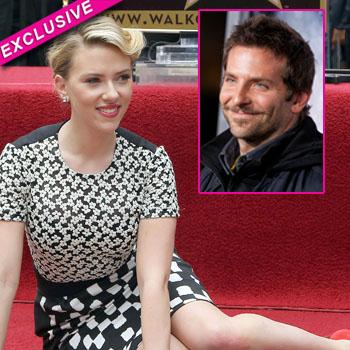 They were rumored to be dating back in 2011 after playing love interests in He's Just Not that Into You, and from the looks of things, Scarlett Johansson and Bradley Cooper may be giving it another go, RadarOnline.com is exclusively reporting.
The Avengers beauty,27,and Hangover stud,37,had a fun, flirty dinner at Wolfgang Puck's restaurant at the Bel Air Hotel on the night of Monday, June 11. There was candlelight, wine, (well, Scarlett had wine) and what appeared to be witty banter, based on the steady stream of giggles coming from their table.
Article continues below advertisement
"They seemed very comfortable together and it was pretty obvious they are into each other," an eyewitness tells RadarOnline.com "Bradley seemed almost distracted by Scarlett's beauty, especially since she was wearing a very low cut dress, and Scarlett was totally working her charms. She kept flipping her hair when she laughed at his jokes.
"The chemistry between them VERY evident and they looked totally wrapped up in each other -- very cute! They were definitely having more than a "friends" dinner, it seemed pretty obvious they totally have the hots for each other."