Exclusive
TODAY Show Executives Still Debating Who Should Replace Ann Curry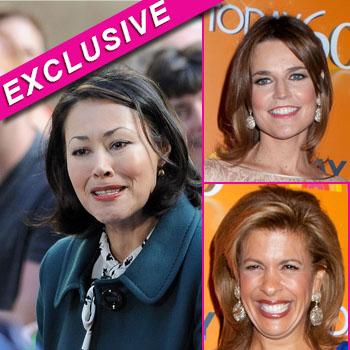 Article continues below advertisement
"Ann's replacement won't be formally named until at least mid July, and it could happen right before the Olympics," a network insider tells RadarOnline.com. "Executives are still undecided about who should be offered the job. Savannah Guthrie is the new up and coming star at the network and she will be co-hosting with Matt in the next few weeks, but so will Hoda Kotb. It's definitely a trial period and NBC will be watching very carefully to gage how viewers respond to both women. The job hasn't been filled and NBC needs to make sure that they make the right decision — they are going to take their time and not rush their decision."
An emotional Curry announced Thursday that she's officially done as the co-host, saying that while she tried her best, she "couldn't carry the ball to the finish line.
"This is not easy to say, but today's going to be my last morning as regular co-host of TODAY," a hoarse-voiced Curry said, flanked by Lauer, Al Roker and Natalie Morales.
Curry, 55, ends her run after just more than a year in the lead anchor role and her ouster comes in light of the NBC morning juggernaut losing a 16-year lead over its chief rival, ABC's Good Morning America.