Exclusive
Amanda Bynes Vows To Fight DUI Charges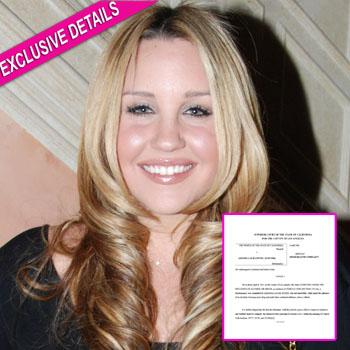 Amanda Bynes has officially been charged with DUI and failure to take a chemical test after her arrest last month in West Hollywood, and she will be arraigned Wednesday, but won't be in court, RadarOnline.com is exclusively reporting.
As previously reported, Bynes was arrested on April 6, just days after she turned 26. According to a previously released statement from the Los Angeles County Sheriff's Department: "A Los Angeles County Sheriff's Deputy in a marked black and white radio car was stopped at the intersection of N/B Robertson Boulevard and Santa Monica Boulevard preparing to turn right onto Santa Monica Boulevard. When a black BMW driven by actress Amanda Bynes attempted to pass to the right of the radio car, colliding with the right rear quarter panel of the radio car. Amanda Bynes was subsequently arrested for driving under the influence and booked at West Hollywood Sheriff's Station."
Article continues below advertisement
DOCUMENTS: Read Amanda Bynes' Misdemeanor Complaint
Bynes won't be in court Wednesday because she has been charged with misdemeanors, but her attorney will appear at the Beverly Hills Superior Courthouse. "Her attorney will enter a plea on her behalf. Amanda maintains she wasn't drunk, and is vowing to fight the charges," a source close to the Nickelodeon actress tells RadarOnline.com.
In the days after being arrested for her DUI, the former Nickelodeon star was spotted out partying at various clubs but has now agreed to lay low after her agent and manager ordered her to stop being a fixture of the Hollywood nightlife scene.
"Amanda was just going out without thinking after her DUI arrest. She was spotted texting and driving and just putting herself in really horrible situations," a source close to the actress previously told RadarOnline.com. "Amanda's agent and manager have ordered her to lay low and avoid clubs. She has promised that she won't go and she hasn't been spotted at any nightclubs in almost two weeks -- which is a beginning for her."
Article continues below advertisement
If convicted of the DUI and related charge, Bynes could lose her driver's license for a year, and be sentenced to 48 hours in jail.
Bynes tweeted Tuesday afternoon about her DUI arrest: "Hey @BarackObama... I don't drink. Please fire the cop who arrested me. I also don't hit and run. The end."
RELATED STORIES:
Cops Clear Amanda Bynes In New Hit And Run Incident
Amanda Bynes DUI Case: Will Be Charged For Failure To Take Chemical Test