Exclusive
Amanda Bynes Agrees To Lay Low, For Now, As Friends Urge Her To Go To Rehab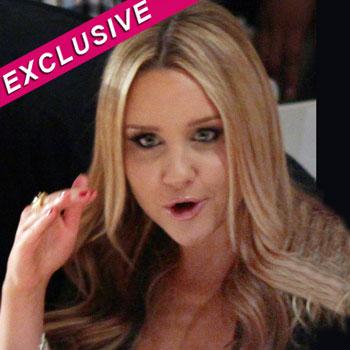 In the days, after being arrested for her DUI, former Nickelodeon star, Amanda Bynes, was spotted out at various nightclubs, but has now agreed to lay low, after her agent and manager ordered her to stop being a fixture of the Hollywood nightlife scene, RadarOnline.com is exclusively reporting.
As RadarOnline.com previously reported, Bynes was arrested in the early morning hours of April 6 after she hit a police car. She was arrested but hasn't been charged with DUI yet and remains out on $5,000 bail pending her first court hearing.
Article continues below advertisement
"Amanda was just going out without thinking after her DUI arrest. She was spotted texting and driving and just putting herself in really horrible situations," a source close to the actress tells RadarOnline.com. "Amanda's agent and manager have ordered her to lay low and avoid clubs. She desperately wanted to go to Coachella last weekend and she has been told not to go the second weekend of the festival, but she is an adult. It would just look very bad if she were to go against what her advisers are telling her to do and end up going to Coachella. She has promised that she won't go and she hasn't been spotted at any nightclubs in almost a week, which is a beginning for her."
Meanwhile, Amanda's friends have grown increasingly concerned about her and are urging her to go to rehab. "Amanda has been in a downward spiral for the last six months. Even though her dad publicly said she doesn't drink he knows she has a problem. It's truly sad to witness. Amanda has been told she must go to rehab, but she is refusing to go, " the source previously told RadarOnline.com.
As a source told The New York Post, "She is not the same girl as she was a year ago. She is just doing whatever she wants to do. Friends are concerned because she is not the Amanda they know."
Article continues below advertisement
Perhaps Amanda has agreed to follow the advice to stay home, because she was being called the new Lindsay Lohan!
"Amanda thinks its extremely unfair that people are calling her the new Lindsay Lohan. Comparisons between the two are just ridiculous as Amanda has never been arrested for drug possession or for stealing anything. Yes, she got arrested for a DUI, but that doesn't mean that she is headed down the same road as Lindsay. Amanda doesn't harbor any negative feelings towards Lindsay, she doesn't even know her, she just thinks it's sexist that the two are being compared. Men in Hollywood that get arrested for DUI's don't face the same scrutiny that women do and that is what really irks Amanda. She isn't taking the DUI arrest lightly," the source said.