Wayne Gretzky's Scandalous Spawn Strikes Again! Paulina Posts More Racy Photos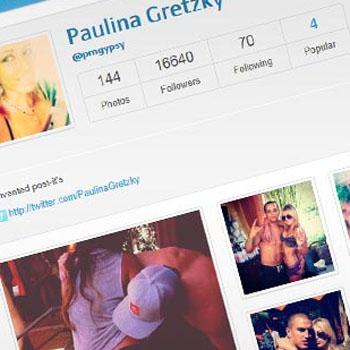 What happens in Las Vegas, does not stay in Vegas!
Paulina Gretzky, the daughter of NHL hockey legend Wayne Gretzky and actress Janet Jones, is involved in another racy photo scandal after posting several scantily clad Instagram pictures of herself during a wild weekend in Sin City – and RadarOnline.com has the details.
The 23-year-old, who took a break from her Twitter account late last year after getting herself in hot water for posting scandalous photos of herself, shared several sexy snaps of herself at a booze-fueled bikini pool party, flaunting her hot body in a skimpy bikini.
Article continues below advertisement
In one of the images the blonde beauty, whose assets are on full display in her barely there bikini, hangs onto a shirtless guy with one arm, and clutches onto a beverage with the other. Her unidentified male friend has his hand firmly placed on her booty.
In the most shocking image, the hockey legend's little girl is suggestively posed, spread eagle in her bikini.
Is Paulina just having fun, or are her photos too racy to share on social media? Sound off below.