Prince William Opens Up About Missing His Mom, Princess Diana, On His Wedding Day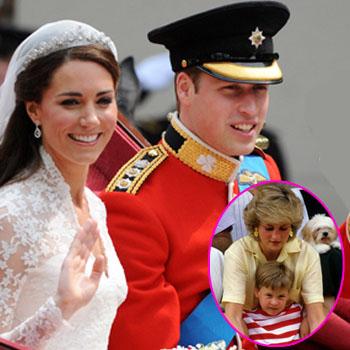 Prince William says he thinks his late mother Princess Di had the "best seat in the house" when he got married a year ago and shares that one of his biggest regrets is that his mother will never get to meet his new wife.
William opens up in a poignant interview with Katie Couric for a new ABC special, and we've got all the details for you, as well as a clip, on RadarOnline.com.
William and his brother Harry granted rare interviews to Katie as the Queen of England's Diamond Jubilee celebration approaches, setting the stage for the touching Q&A.
Article continues below advertisement
"It was very difficult Di wasn't at the wedding," William tells Katie as they strolled the grounds of Buckingham Palace, adding it's also "very sad" that she never got to meet his wife, Kate Middleton.
"I was sort of mentally prepared so I didn't want any wobbly lips or anything going on," William says. "It's the one time since she's died, where I've thought to myself it would be fantastic if she was here.
"And just how sad really for her, more than anything, not being able to see it. Because I think she, she would have loved the day and I think, hopefully, she'd be very proud of us both for the day … I'm just very sad that she's never going to get a chance to meet Kate."
Last year, Di's close friend Elton John waxed poetically about watching William grow up, and how he feels Diana would have regarded Kate.
Article continues below advertisement
"My heart sank when I saw those two boys walking behind the coffin," Elton said. "I thought that was the hardest thing, I can't imagine at that young age having to walk in the public, following your mother's coffin.
"And the next time we're in the Abbey it's to see him walking up the aisle with a beautiful woman, the love of his life, I think it's the most joyous result and I'm sure Diana would be very, very happy about it."