Exclusive
Is Nicole Richie A Fashion Thief?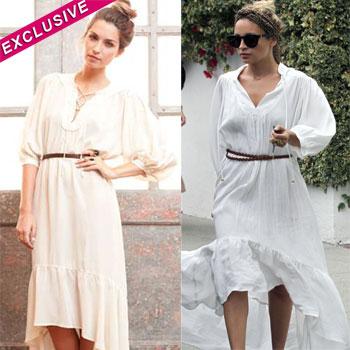 She may be hailed on Fashion Star as one of the top celebrity fashion designers, but is Nicole Richie stealing designs from other fashion brands?
It appears that the star, who is known for her bohemian luxe style sense, completely copied a dress from the line Odylyne, which she actually wore in 2011, and introduced it as part of her Winter Kate Spring 2012 collection – and RadarOnline.com has the photos to prove it.
Article continues below advertisement
Nicole donned the bohemian-looking asymmetrically hemmed Odylyne Barbet long dress, which featured a braided belt, in Los Feliz last summer, which originally retailed for $286 on Shopbop.com.
Richie's Jazbaa dress from the Winter Kate Spring 2012 collection looks pretty much identical to the Odylyne dress, and even comes with a double braided belt! The dress is currently on sale at Revolve Clothing for $475.