Missing Arizona Girl's Parents Say Police 'Wasting Time' Focusing On Them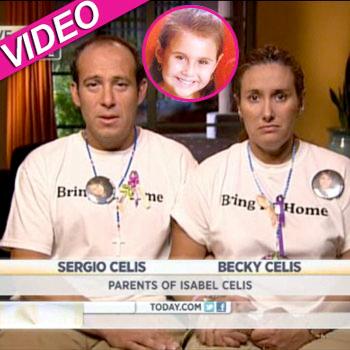 By Alexis Tereszcuk - RadarOnline.com Entertainment Editor
Isabel Celis has been missing from her Tucson, Arizona home since April 21 and her parents have become frustrated with law enforcement focusing on them.
Becky and Sergio Celis gave their first sit down interview Thursday morning where they said their 6-year-old daughter deserved to be home.
"To who ever did this, please, look at her. Look at her. She's beautiful. She doesn't deserve this. She deserves to be home. She deserves to be home in her room playing with her brothers and just loving life the way she does. This is -- there's so many things that are just so frustrating and so difficult to deal with," her father told Ann Curry on the TODAY show.
Article continues below advertisement
The parents, who gave one press conference where they spoke about their daughter, said that they are "desperate" to get information from the police but don't want to be the target of their investigation.
"We understand that they're doing absolutely everything possible," Celis said. "And sometimes it does feel that, yes, we do feel sometimes that they're wasting time with us even though we know we have to be under, you know, scrutiny, absolutely, understandable, but my goodness. She's still out there."
Her parents struggled with their emotions during the interview, with her mother Becky saying that they understand why they are under the scrutiny they are.
"It's necessary to do and if it's anything close to getting Isa back home safely, then whatever it takes. It's nothing we can't handle. We want her back. So whatever it takes to get her back, we will do."
Visit msnbc.com for breaking news, world news, and news about the economy