Parents Of Missing Tucson Girl Tearfully Beg For Her Return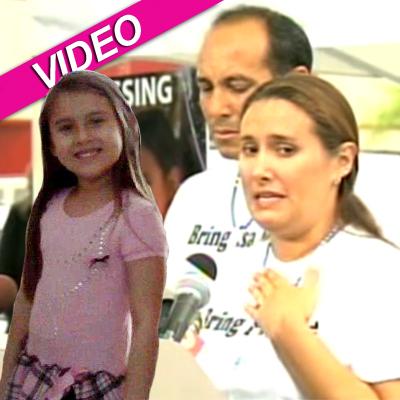 The parents of a missing 6-year-old Tucson, Arizona first-grader tearfully pleaded for their "baby girl Isabel" to be brought back safely, during an emotional news conference held at a police command post in the desert city Wednesday.
"Just please, please, the person or persons who have Isabel, tell us your demands," her father Sergio, flanked by his wife Becky, said. "Tell us what you want. We will do anything for her."
Article continues below advertisement
Both wore shirts that read, "Bring Isa Home."
"We are looking for you, Isa," Sergio said. "We love you and we miss you so much. We will never give up."
The couple thanked the community for their help, prayers and support in the disappearance, which has attracted national attention.
"We have tremendous gratitude to the millions of people around the world who have prayed for Isabel," said Becky. "Please continue to pray for her return.
"We don't want the focus to be taken off Isabel by talking in front of the cameras."
As RadarOnline.com previously reported, Isabel was last seen Friday night in her bedroom and reported her missing early Saturday. Police say the case is being treated as a suspicious disappearance or possible abduction.
While a window in the child's room was open, and its' screen moved aside, Tucson Police Chief Roberto Villasenor said officers are unsure if anyone actually forced their way inside, adding there were "suspicious circumstances around a possible entry point."
Article continues below advertisement
On Monday, police interviewed local sex offenders, and used FBI dogs to scour the child's home, which turned up a valuable tidbit of info authorities did not identify.
The Pima County attorney's office has upped the reward for information about the incident to $30,000.
Anyone with information about Isabel is urged to call 911 or 520-882-7463.