Matthew McConaughey On Stripping In Magic Mike: 'I Don't Need A Stunt A**'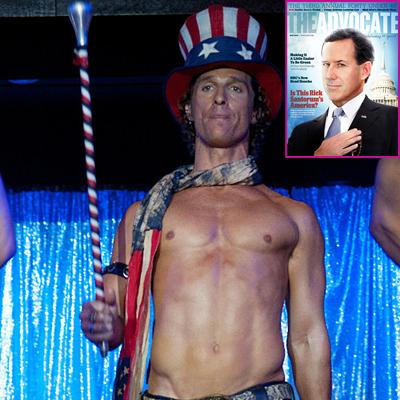 A-lister Matthew McConaughey has a huge following among the gay community, and in a new chat with The Advocate, the tantalizing Texan opens up about the sexy turn he takes in Magic Mike, his new film based on the hunk-laden world of male stripping.
Asked if he needed any body doubles, Matthew said, "No way. That's all me up there. I don't need a stunt ass."
Matthew said the chiseled fellas in the film all put in serious time at the gym getting ready for the revealing roles.
Article continues below advertisement
"Everybody was pretty damn ripped already, but boy, if you really want to get men in great shape, just tell them they're going to play male strippers in a movie and have their sh*t onscreen for the rest of time," he said. "Vanity, baby."
The actor says the gay community should be "pumped" and "come out in droves" for the film.
"I think they'll come out more excited then they came in," he said. "I look forward to hearing the chatter of the gay community after they see it, including their answer to your question of, 'Who's the hottest?'"
Touching on more relevant social issues, Matthew recalled when he stood up for gay friends in high school and college who were getting bullied.
"I'm not even sure where I got the instinct from, but I've always taken up for the underdog," he said. "I suppose I learned that from my brothers, because my brothers always had that instinct too, and we're all very hetero."
As for his politics, Matthew says he's for anything life-affirmative.
Article continues below advertisement
"I'm for gay power, straight power, male power, female power; everybody should feel empowered without oppressing anyone who's different," he said. "You know those World Cup banners about tolerance? I always thought that was one short.
"No, don't just tolerate me: Understand and accept me."
Magic Mike, also starring Channing Tatum, Alex Pettyfer, Olivia Munn and Kevin Nash, hits theaters June 29.
MORE ON:
Matthew McConaughey