Martin Sheen And Emilio Estevez Reveal They Came To Blows On Set Of Apocalypse Now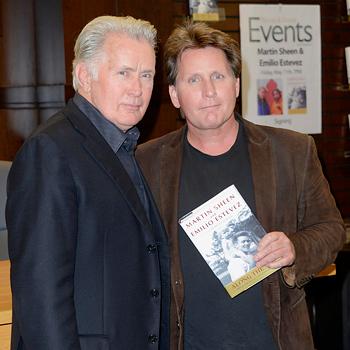 It seems that Charlie Sheen is a chip off the old block. Long before the actor had his public meltdown his dad Martin got into a drunken fight with his other son, Emilio.
The West Wing actor says he and Emilio Estevez, then 14, came to blows in 1976 when Sheen was in the Philippines filming Apocalypse Now. And legendary actor Marlon Brando had to break up the fight.
Article continues below advertisement
Father and son reveal the incident in an interview with The Times in the UK. Sheen – who was a heavy drinker at the time – had taken his wife and four children to the Philippines to be with him while he made the film.
Emilio, now 50, wanted to go home but his dad wouldn't let him. In their joint memoir Along The Way, the pair reveal they were "kicking and rolling around, giving it everything we've got."
MORE ON:
Two and a Half Men
That's when Brando knocked on the door of their room saying: "What's going on? Is everything all right?"
Sheen, 71, says: "I was trying not to hurt Emilio and trying to make sure he didn't hurt himself. Thank God Marlon arrived when he did."
Estevez tells The Times that he was "scared" of his father whom he says was a "terrible drunk." Sheen stopped drinking in 1989.
Estevez and his dad were reluctant to talk about Charlie who was fired from the sitcom Two And A Half Men last year. According to the reporter Estevez told him to "keep a lid" on questions about his brother.