Charlie Sheen Reputation Not Damaged, Lawyer Says Strip Club Was Trying To 'Cash In On Its 15 Minutes'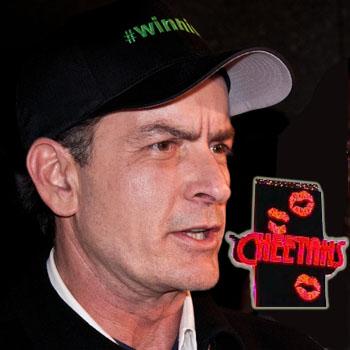 By Amber Goodhand - RadarOnline.com News Editor
A New York gentlemen's club named one of their VIP rooms after bad boy Charlie Sheen and not only did they not have his permission to do so, but the club was sent a legal letter by his attorney demanding they stop.
"We got notification from his lawyer to cease and desist, claiming the usage of his name would be detrimental to his persona. They said they would sue us for millions if we carried on," the president of the company that owns Cheetahs Gentlemen's Club, Sam Zherka, said.
Article continues below advertisement
"How could sushi damage Charlie Sheen's reputation? We thought dedicating a room to dine in his honor would help repair and elevate his image. He should have called us up and thanked us."
But despite Sam stating that Charlie was claiming damage to his reputation — which is already riddled with drugs and hookers — his lawyer Marty Singer tells us that wasn't the case.
"We never claimed reputation damage," Marty said.
"It is a concoction by a strip club trying to cash in on its 15 minutes of fame."
Marty tells RadarOnline.com that the cease and desist letter they sent Cheetahs had nothing to do with Charlie's reputation and they're just milking every last drop of publicity they can get out of it.
"This is a straight forward commercial misappropriation claim and has nothing to do with any reputation issues," he said.
Article continues below advertisement
"The club's ongoing efforts to attract media attention by using Charlie Sheen's name and mischaracterizing the nature of his legal claims are more blatant attempts to promote the club by wrongfully exploiting my client's publicity rights without his consent."
So tell us — who's "winning!" here, Charlie Sheen or the strip club? Leave your comments below…
RELATED STORIES:
Ashton Kutcher's New Deal With Two And A Half Men Is Smaller And Shorter Than Expected