Madonna Takes Subtle Dig At Lady Gaga In Express Yourself/Born This Way Mash-Up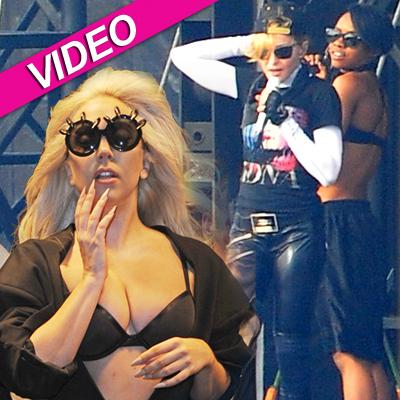 The uneasy truce between Madonna and Lady Gaga continues, as the Material Girl might have taken a very subtle dig at her heir apparent by blending pieces of Born This Way into her Express Yourself, the song many have said Gaga liberally lifted from in making her 2011 smash hit.
The mash-up was caught as Madonna prepares in Israel for her summer tour; noteworthy is that the rehearsal ends with footage and sound from Madonna's 2008 song She's Not Me, in which Madonna sings about a young copycat that doesn't have her flare.
Article continues below advertisement
(It's doubtful the tune was originally intended with Gaga in mind, as it was released the year before the eccentric singer truly shot to stardom with a string of hits such as Poker Face and Bad Romance.)
Last year, when Born This Way initially was released, many noticed the similarities in tone and theme to Madonna's 1989 hit, leading Gaga to douse the flames (or so she thought) of a rivalry.
Gaga, at the time, said "the good news is that I got an e-mail from Madonna's people and her, sending me their love and complete support on behalf of the single. And if the queen says it shall be, then it shall be."
Gaga might have spoke on behalf of the queen a little prematurely, however, as Madonna let her feelings known on the matter speaking to 20/20 in January, and it wasn't probably what Gaga wanted to hear.
"When I heard Born This Way on the radio ... I said that sounds very familiar -- it felt reductive," Madonna said. (The definition of "Reductive" -- Tending to present a subject or problem in a simplified form, esp. one viewed as crude.)
Article continues below advertisement
Watch the video on RadarOnline.com
Madonna said she thinks Gaga "references me a lot in her work and sometimes I think it's amusing and flattering and well done … there's a lot of ways to look at it. I can't really be annoyed by it ... because, obviously, I've influenced her."
Not annoyed? We think the lady doth protest too much …