New Jersey Woman: I Was Fired For Being Too Hot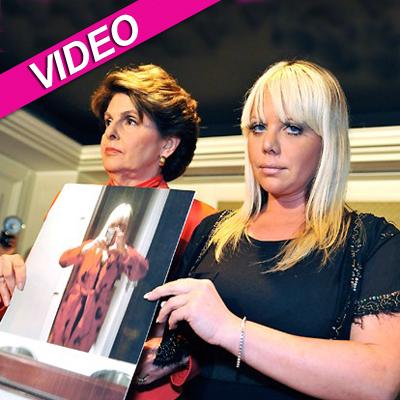 A New Jersey woman -- flanked by famed women's rights attorney Gloria Allred – said at a news conference in New York Monday afternoon she was fired from her job after her manager told her to "tape her breasts" down because she was too hot.
Lauren Odes, a 29-year-old former data entry worker at Native Intimates, a wholesale lingerie company in Manhattan, said two days after starting work there, her boss informed her the store owners disapproved of her outfit, suggesting it was too "distracting."
Article continues below advertisement
RadarOnline.com was first to report Monday morning that Allred intended to file a lawsuit on the woman's behalf.
"When I first started working there, I asked what the dress code was, and I was just told to look around and see what everyone else was wearing," Odes said. "So I did. The dress was very casual athletic wear to business attire."
Odes -- who said she is Jewish -- said the owners of the company were Orthodox Jews and were offended by her outfit.
She said at first she compromised, saying she'd wear a gray T-shirt and black jeggings with rain boots to work, but her bosses said that wasn't enough.
"When my supervisors suggested that I tape down my breasts, I asked 'Are you kidding me?'" she said. "The supervisor said, 'Just cover up a little more.'"
Odes said her supervisor -- a woman -- then walked over to a closet, pulled out a bright red bathrobe plastered with images of guitars, and told her to wear it.
Article continues below advertisement
"She told me to sit at my desk and wear it all day. I felt completely humiliated," Odes said. "She put the bathrobe on me and tied the belt, and I returned to my desk wearing it."
Her boss then gave her the option of going out and buying a sweater that "went to her ankles" instead of wearing the bathrobe, she said. After being made fun of by co-workers, Odes agreed to shop for a new outfit.
"I sat in the bathroom for a while crying. I'd prefer to go out and buy a sweater rather than sit there in the bathrobe feeling humiliated," Odes said.
Odes said while she was out shopping for the sweater, she got a phone call saying she'd been fired.
"I do not feel an employer has the right to impose their religious beliefs on me when I'm working in a business that's not a synagogue, but sells things with hearts on the female genitals and boy shorts for women that say hot in the buttocks area," she said.
On Odes behalf, Allred filed suit Monday against Native Intimates with the Equal Employment Opportunity Commission, claiming religious and sexual discrimination.
"The treatment was discriminatory, profoundly humiliating and unlawful," Allred said