Lady Gaga Sinks Her Hooks Into A New Meat Dress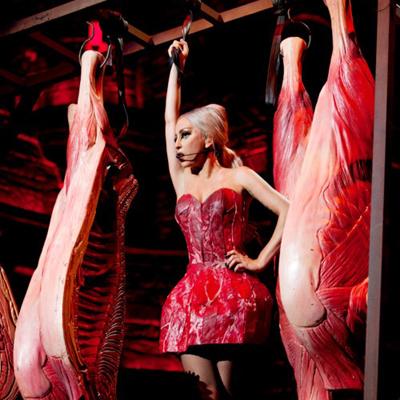 We get it! You like meat!
Lady Gaga showed off yet another meat dress on Monday following her performance in Toyko, Japan.
The Poker Face singer tweeted a photo of herself in the form fitting, low-cut outfit, surrounded by meat hanging from hooks, along with the caption: "Photo from THE BORN THIS WAY BALL Tokyo. 'Americano' by Terry Richardson."
Richardson -- her professional photographer pal -- has been documenting Gaga's latest tour with hundreds of interesting pics.
Article continues below advertisement
Gaga first turned heads when she wore a different meat dress, designed by Franc Fernandez, during the 2010 MTV Video Music Awards in Los Angeles.
However, not all is going so well on the tour; on Tuesday, officials in Indonesia announced they are canceling Lady Gaga's concert set for June 3 in Jakarta , citing security concerns after three Islamic groups voiced their strong opposition to what they called her "vulgar" act.