Kris Jenner Dodges Matt Lauer's Question About 'Kimye'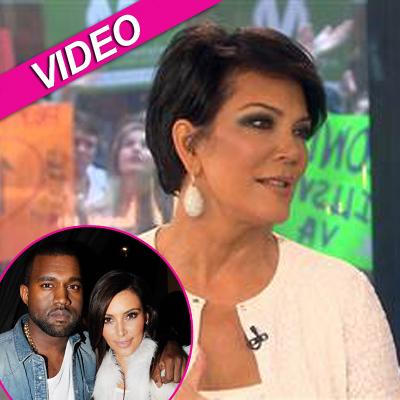 Kim Kardashian's mother Kris Jenner sat down with Matt Lauer Wednesday and touched on her reality of life in front of the cameras, while staying coy on her daughter Kim's newfound A-list hookup with rapper Kanye West.
Asked about Kim and the Flashing Lights singer, Kris said, "We've know him for years, he's a really great guy … I stopped commenting about the details in my kids' friendships and relationships, because I get nothing but in trouble. He's great and she seems happy."
Article continues below advertisement
Kris said in her family's reality TV-dominated world, "It's almost unusual not to have all the cameras in our lives."
The executive producer of Keeping Up with the Kardashians called the programs "an opportunity for me as a mom: I get to wake up every single day and work with my kids. It's somewhat addictive in that -- we can't wait to do it."
At one point, Matt seemed sheepish asking Kris if Lamar Odom and Khloe Kardashian are getting along well.
Watch the video on RadarOnline.com
"I'm gonna be so proud of this interview on some future day," the journalist joked. "This is a resume tape waiting to happen."
Jenner was married to Kim's father, famed O.J. Simpson attorney Robert Kardashian from 1978-1990, and last year celebrated her 20th wedding anniversary to husband Bruce Jenner, who she tied the knot with in April of 1991.
Keeping Up with the Kardashians returns to E! May 20 at 9/8c.