Real Life Good Will Hunting: Janitor Graduates From Columbia University; Won't Hang Up His Mop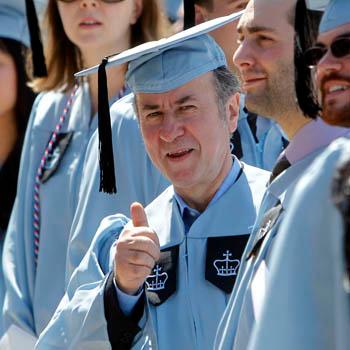 By Debbie Emery - RadarOnline.com Reporter
After four years of scrubbing toilets and mopping floors, a refugee from war-torn Yugoslavia swapped his janitorial overalls for a cap and gown to graduate from Columbia University.
In a success story that is reminiscent of Matt Damon's character in Good Will Hunting, 52-year-old Gac Filipaj received his Bachelor's degree in classics on Sunday after 12 years of juggling late-night studying in his Bronx, New York apartment, while he cleaned the Ivy League school's halls during daylight hours, reported NBCNewYork.com.
Article continues below advertisement
Despite fulfilling his dream of becoming a college graduate, the Columbia employee – who got free classes that included ancient Latin and Greek because of his employment – isn't going to hang up his dustpan and broom by quitting his day job. Right after his commencement ceremony on Sunday, he was back to work while his fellow graduates celebrated.
Filipaj said that his favorite subject was Roman philosopher and statesman Seneca. "I love Seneca's letters because they're written in the spirit in which I was educated in my family — not to look for fame and fortune, but to have a simple, honest, honorable life," he said.
The Dean of Columbia's School of General Studies Peter Awn sang the praises of his star student's dedication to his education, telling NBC, "This is a man with great pride, whether he's doing custodial work or academics," said the professor of Islamic studies.
"He is immensely humble and grateful, but he's one individual who makes his own future."
Tackling the classics was even more of a challenge for the ethnic Albanian from the tiny village of Donja Klezna outside the city of Ulcinj because first he had to learn how to speak English.
Article continues below advertisement
Filipaj fled his homeland and his life on the family farm to avoid being drafted into the the Yugoslav army led by Serbs, giving up his chance of finishing law school in Belgrade.
While working as a busboy and living in his uncle's apartment when he first landed in New York, the Albanian immediately began researching the best schools in the city.
"I asked people, which are the best schools in New York?" he says. Since Columbia topped his list, "I went there to see if I could get a job."
Earning $22-an-hour, Filipaj hasn't forgotten the family he left behind and still sends a chunk of his paycheck back to his brother, sister-in-law and two kids in Montenegro to supplement their main income that comes from selling milk.
The bookworm isn't going to rest on his laurels now he is a college grad, and next on his bucket list is to earn his master's degree in Roman and Greek classics in the hope of one day becoming a teacher.