Matthew Morrison: I Have A Crush On Michelle Obama!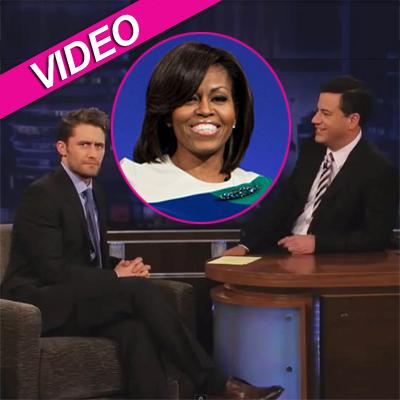 Matthew Morrison, appearing on Jimmy Kimmel Live Thursday, admitted he's got a huge crush on the first lady!
"I have such a crush on Michelle Obama," Morrison, who attended the The White House Correspondents' dinner last month, told Kimmel.
"Does the president know this? He could probably have you killed!" Kimmel joked.
Morrison said he's met the Obama family seven times in all.
"I've got to sing there a lot," he said, adding he "pandered to the president" during a Christmas concert, singing a Yuletide anthem from his native Hawaii, Mele Kalikimaka.
Article continues below advertisement
Morrison also shared a hilarious story of the first time he ever saw a woman's private parts in person, assisting his father, who worked as a midwife.
"My senior year of high school my dad actually took me to work … it was the first time I saw a vagina … and then this alien coming through!"
"That's a bad first impression!" Kimmel joked.
Watch the video on RadarOnline.com
Morrison's new film What to Expect When You're Expecting is in theaters now; Glee airs on Fox Tuesday at 9/8c.