Meleana Brown Shows Off 'Endless' Talents In Duets Debut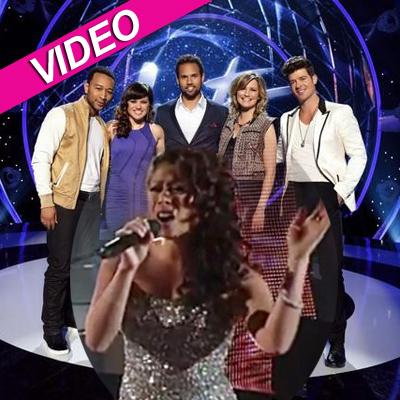 Meleana Brown debuted atop the leaderboard on ABC's Duets Thursday night, making the most of her opportunity replacing Johnny Gray, who's off the show due to "unforeseen circumstances."
The first-season show stars four celebrity judge/mentors -- Kelly Clarkson, John Legend, Robin Thicke and Jennifer Nettles -- who each take two diamonds in the rough under their wing and look to make them stars in side-by-side performances, with a grand prize of a Hollywood Records recording contract.
Article continues below advertisement
Watch the video on RadarOnline.com
Meleana -- who said it was a dream come true to sing alongside John -- delivered a soft-yet-powerful performance of Endless Love that went over huge with the judges: Kelly praised the girl, suggesting she incoporate more soul into her singing, Jennifer called her "incredibly classy and fabulous," and Robin likened her balanced act to a perfect sandwich.
Elsewhere on the evening, John sang I Knew You Were Waiting with Bridget Carrington; Kelly sang Misery with Jordan Meredith and Whenever You Call with Jason Farol; Jennifer sang Ain't No Mountain High Enough with John Glosson and You're the One that I Want with J Rome; and Robin sang Where is the Love? with Olivia Chisholm and You're All I Need to Get By with Alexis Foster.
The week two rankings read: Meleana, J Rome, Bridget, John, Jordan, Alexis, Jason and Olivia.
Next week, eliminations begin, as the lowest vote-getters will go head-to-head in an a cappella showdown, with the loser getting eliminated from the show.
Duets airs on ABC Thursdays as 8/7c