Who Me, A Bombshell? Charlize Theron Dazzles At Prometheus Premiere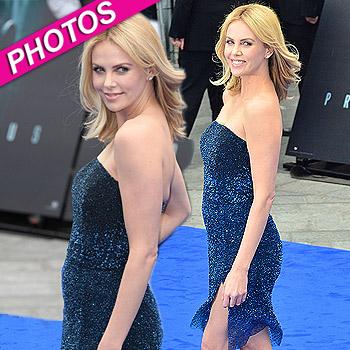 By Leah Ornstein - Radar Features Editor
Charlize Theron recently revealed that she doesn't plan on going under the knife anytime soon – and she clearly doesn't need to!
The 36-year-old actress dominated the red carpet at the London premiere of her latest movie Prometheus on Thursday night, wearing a sexy, shimmering Christian Dior dress – and RadarOnline.com has the photos.
The statuesque South African, whose movie Snow White and the Huntsman hits the big screen on Friday, showed off her legs-for-miles in the slitty, strapless dress, which she paired with Christian Dior sandals and Bulgari bling.
Article continues below advertisement
"I can't foresee myself ever going under the knife, but then again, I'm only in my mid-thirties," revealed Theron to Interview magazine, after sharing that her face is changing. "Maybe it's different when you're in your mid-sixties. I don't know, so I don't want to make statements about where I'm gonna be in 30 years."
The star, who recently adopted a baby boy, Jackson, was joined on the red carpet by her hunky costar Michael Fassbender.