Celebrity Twitter Pics Of The Week! The Good, The Bad & The Outrageous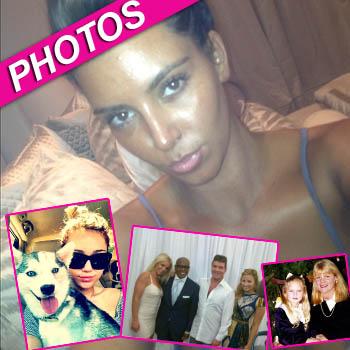 RadarOnline.com Features Editor
Hollywood stars are their own, personal paparazzi!
From baby bumps to engagement rings, Hollywood's hottest stars were snap-happy this week, sharing their personal snapshots on Twitter, and RadarOnline.com has the all good, bad and the most outrageous images of the week in our special feature.
Who knew that the Tanning Mom, Patricia Krentcil, would inspire Kim Kardashian? The social media savvy reality star shared a hilarious photo on Twitter, paying homage to the scandalous and tanorexic New Jersey mom.
Article continues below advertisement
Speaking of tanorexics, Snooki, who is sacrificing the sunrays for her bun-in-the-oven, shared a photo of her tiny baby bump with her fans.
Britney Spears confirmed all those X Factor rumors, posting a photo of herself with fellow judges Simon Cowell, Demi Lovato and L.A. Reid, while Teen Mom Jenelle Evans announced her engagement by Tweeting a photo of her brand new bling.
Chris Brown wished his girlfriend, Karreuche Tran, a happy birthday, uploading a photo of the model in her underpants, while his ex-girlfriend Rihanna snapped a sexy photo of herself wearing nothing but muddy body paint.
What other stars shared good, bad and outrageous Twitter photos this week? Find out by clicking here.