Boob Job Blunders! 10 Celebs With Not-So-Fantastic Plastic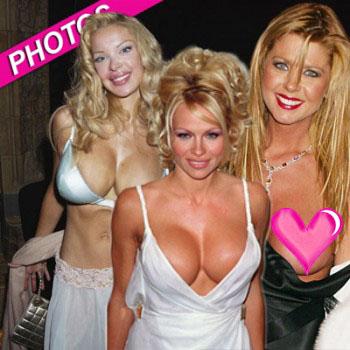 Talk about plastic surgery busts!
These hot Hollywood stars have learned the hard way that plastic isn't always fantastic.
From too-big implants to just totally botched boob jobs, RadarOnline.com has photos of the 10 biggest boob job blunders in Tinseltown.
Pamela Anderson has never been able to decide on a cup-size! The Baywatch babe, who underwent her first breast augmentation in 1989, has admitted to having several enlargement and reduction surgeries over the years. Her biggest boobs to date? The blonde bombshell has gotten up to a whopping 36DD cup size.
Article continues below advertisement
But that's nothing compared to the boob job queen of Britain, Alicia Douvall. The glamour model and actress has bragged that she's had 16 boob jobs over the years, and is still able to breastfeed!
Victoria Beckham got a boob job early in her career, and lived to regret it. When asked about what happened to her big boobs during an interview with British Vogue, the former Spice Girl simply replied, "gone."
What other stars have experienced boob job blunders? Find out by clicking here.