PHOTOS: The Worst Celebrity Wardrobe Malfunctions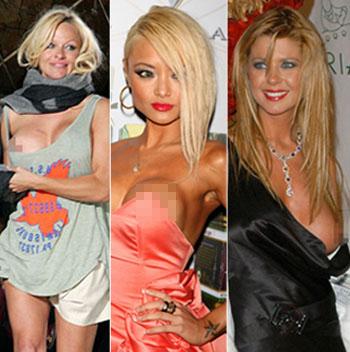 Wardrobe malfunctions are embarrassing for everyone, but when you are a Hollywood celebrity, it can be tough to live one down. RadarOnline.com has photos of some of the worst wardrobe malfunctions of all times in this special photo feature.
Click Here To See The Worst Celebrity Wardrobe Malfunctions
Although you may not remember the score of the Super Bowl XXXVIII football game, chances are you haven't forgotten Janet Jackson's infamous halftime show. While the star was performing live with Justin Timberlake, she exposed her breast to the world, resulting in an incident referred to for years to come as 'Nipplegate.'
Article continues below advertisement
Click Here To See Pam Anderson Bare Her Boob
And Tara Reid learned the hard way that a nip slip is nothing compared to a full-on boob slip! The troubled starlet had just undergone breast augmentation, when she hit the red carpet in a swanky black dress and fur coat. Posing for photos, she didn't even notice that her left breast had completely fallen out of the loose-fitting gown.