Clueless! Bruce Jenner Claims He Didn't Know Of $40m Deal, Knows Nothing Of Kim Kanye Romance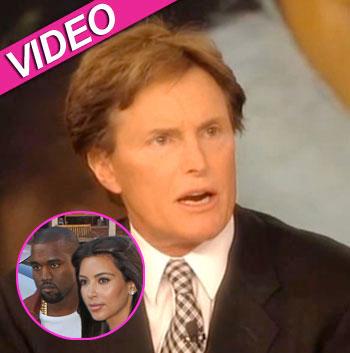 Bruce Jenner may be the 'man of the house,' but he certainly is not Keeping Up With The Kardashians.
The reality show dad, married to matriarch Kris Jenner, appeared to be totally oblivious to what's going on around him as he guest-hosted on The View Friday.
Despite his family just signing a new $40 million, three-year deal with E!, the Olympian claims to not have known about it before the big announcement.
Article continues below advertisement
"I didn't even know it happened," Bruce insisted. "I don't follow any of that stuff. The girls are into the money thing.
"Honestly, a couple days ago I was watching the news and then this ticker comes across the screen saying, 'Kardashians sign a new deal' and I was like 'We did? That's kind of nice.
"And then later that day I get yelled at because I spent $300 on a credit card. She saw it come through from Heliparts for my RC heli. Things haven't changed at all."
Bruce also admitted to being "henpecked" by Kris but that he was "in control."
And when asked about his stepdaughter Kim Kardashian's relationship with Kanye West, Bruce again played dumb, or maybe he wasn't playing, when he said he didn't know the status of the relationship.
"Honestly. I have no idea," Bruce told the talk show ladies. "I've never met him - I haven't seen him at the house. I don't know. I just want Kim to be happy. I hope she finds someone to be happy."
Article continues below advertisement