Wedding Guest From Hell Slow Dances With Groom, Punches Cop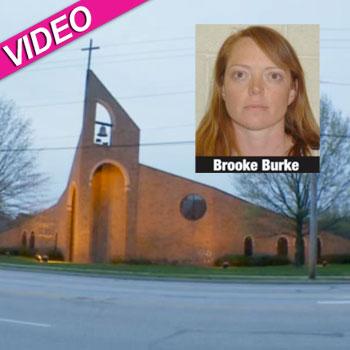 By Debbie Emery - RadarOnline.com Reporter
You can't pick your family, but if you could these newlyweds would likely choose a different one after a relative caused such a fiasco at their wedding that she ended up being led out in handcuffs.
Brooke Burke, 36, of North Olmsted, Ohio, was arrested and charged with misdemeanor assault and disorderly conduct following a drunken foray during the wedding reception on Saturday at the St. Clarence Church Pavilion, reported Fox8.com.
Article continues below advertisement
According to the police report, the argument began when the blushing bride asked Burke, who is married to the groom's brother, to stop slow dancing so closely with her new husband. Instead of obliging to the reasonable request on the woman's special night, she started yelling and tried to hit her sister-in-law.
Luckily North Olmsted auxiliary officer Dan Kuack was working off-duty as security and stepped in to break up the cat fight, but when he tried to restrain Burke by the arm, the feisty red head "pushed and grabbed him by the uniform."
She then "fell to the ground kicking and screaming and being belligerent," revealed the official report, and when Officer Kuack tried to control her, "she struck him in the left side of his face several times."
The officer was left with a bruised and swollen face that needed X-rays, while the unruly wedding guest got thrown in the drunk tank until she was booked and released to a sober person.
RELATED STORIES: