Terry Probyn Opens Up On '18 Hellish Years' Daughter Jaycee Dugard Was Missing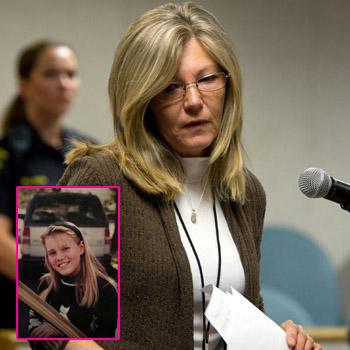 It's every parent's worst nightmare, and Tuesday, Jaycee Dugard's mother Terry Probyn recalled her misery in front of a group of 300 people, calling the 18 years her daughter was missing "hellish."
Probyn opened up about the awful time as part of an event for Sonoma County Crime Victims' Rights Week, held at the Family Justice Center in Santa Rosa, Calif.
Jaycee was famously abducted at the age of 11 in 1991 from a bus stop in South Lake Tahoe, Calif. by convicted rapist Phillip Garrido and his wife Nancy. She was held in captivity in a backyard prison for 18 years, raped repeatedly, and gave birth to two daughters, Starlite and Angel, in that time.
Article continues below advertisement
Probyn said police grimly told her that if they couldn't find Jaycee within 72 hours, chances were "slim-to-none" they would.
The loving mother said she "kept Jaycee in her heart," despite the torture she endured not knowing what had happened to her little girl.
"I could not and I would not let go of her," Probyn said, adding she'd often peer at the moon to tell Jaycee how much she loved her.
As we previously reported, Jaycee was paid $20 million as a settlement by the state of California due to their mishandling of kidnapper Phillip Garrido's parole. She and her mother have turned their attention to charity, establishing the JAYC (Just Ask Yourself to Care) Foundation, an organization to aid families who've been shattered by a kidnapping.