Florida Woman Drops $10K On Pippa Middleton Butt Lift: 'I Wanted What She Had'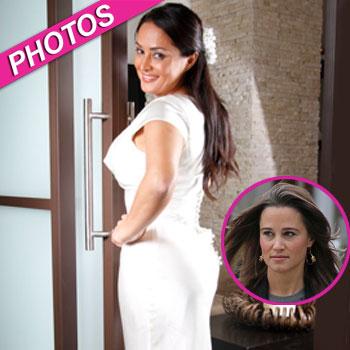 Pippa Middleton's pert posterior continues to bring joy to men and women around the world!
After watching the Royal Wedding in 2011, a Florida divorcée and mother of two decided that she wanted to look more like Kate Middleton's younger sister – and claims that her decision to go under the knife and drop $10,000 on the Pippa Butt Lift changed her life drastically and helped her land a new man.
Article continues below advertisement
"When I saw her in that dress on TV, I knew I wanted what she had," reveals Jenny Fizgerald to the Daily Mail.
"When I saw how men around the world responded with adoration for Pippa's curves, I decided to take drastic action."
After doing research on local plastic surgeons, she decided on Dr. Constantino Mendieta, who offered the trendy surgery, where fat is extracted from different parts of the body and injected into the behind, for $10,000.
Jenny, who looks strikingly similar to "her royal hotness," had to pack on the pounds to prepare for the surgery.
"It was amazing. I got to eat all my favorites and could gain weight without feeling guilty. It was all going towards giving me the perfect shape I longed for," she says.
After she put on enough weight, Jenny was ready for her surgery in September 2011, and after the procedure she went from a size 4 to a size 2 immediately.
Article continues below advertisement
"Everything just fitted much better, in a lovely way, like Pippa's bridesmaid's dress did on her," she claims. "I bought new styles for my wardrobe which I'd always dreamed of wearing but never dared to before because they didn't fit me properly. It was like a dream come true. I love my new body and just like Pippa I get loads more attention from men."
Just three months later, Jenny fell in love and got engaged to Carlos, and she says she owes it all to her Pippa Middleton booty.
Man Who Shot Himself In The Head Gets World's Most Extensive Face Transplant