No Pain, No Gain! Mark Wahlberg Shows Off Huge Arms And Toned Abs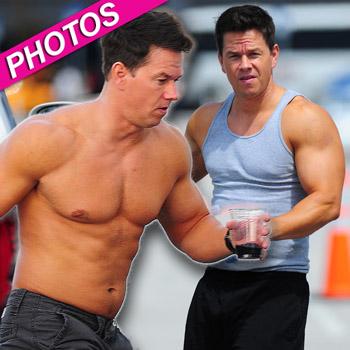 No pain, no gain is the old adage for getting into incredibly great shape.
And Mark Wahlberg showed off the fruits of his gym labor on the set of his new movie in Miami where he looked like a man half of his age and didn't have an inch to pinch.
The 40-year-old actor's body looked insanely buff as he proudly walked around shirtless displaying his massive biceps and rippling abs.
But he obviously is still allowing himself the odd treat as he was pictured holding what looked like a plastic cup filled with red wine.
Article continues below advertisement
Wahlberg is currently filming with fellow Hollywood muscle man Dwayne "The Rock" Johnson.
The father-of-four later got some on-set action when his wife Rhea stopped by to give him a smooch.
Wahlberg's exercise pain will also be his financial gain as it was announced recently that he is going to partner with health and wellness products giant GNC to promote a new nutritional supplement for people with an active lifestyle.