Lauren Conrad Goes Topless In Steamy Cover Shoot!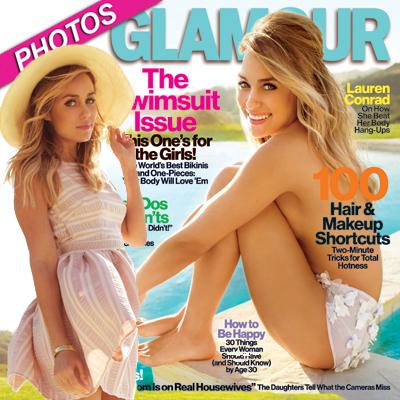 Article continues below advertisement
"On the vacation to Cabo, I wore a bathing suit on the beach for the first time in years. Usually I'm just petrified. A couple of years ago someone zoomed in on my cellulite and it was so mean. I took it really personally. I haven't worn a bathing suit in L.A. in years because of that."
LC, whose trials and tribulation made her a fan favorite on Laguna Beach, has moved on so much from her reality sow days that she swears she didn't even watch the series finale of The Hills, and recalled just how staged it really was.
"During shooting, the producers would send us quick text messages telling us what to talk about. They couldn't walk through the shot, so they'd just text me, like, 'Say something quick about this story line.' That's why we were always checking our phones!"
As for her co-stars, like Kristin Cavallari and Heidi Montag and Spencer Pratt, the MTV star says there isn't really any love lost there. "The show is what brought a lot of us together, and when it was gone, we didn't have anything in common anymore."
Article continues below advertisement
Lauren mused about her love life too, saying "I wish I dated as much as people thought I did! It's really funny because almost everyone that I'm reportedly "dating" is a friend of mine. About half my friends are guys, and I've always gotten along really well with guys. You just have to laugh at it."
The beach babe said she's hasn't let fame go to her head. "For me, the best way to stay grounded is to surround myself with friends and family who knew me way back when. There's nothing like cleaning my mom's dishes or taking out the trash to remind me that I'm no different than anyone else."