Sexy Scribes! Bikini Babes With Books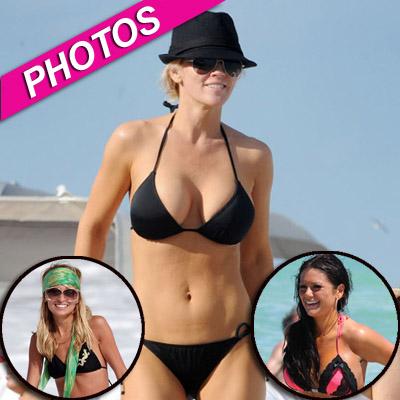 RadarOnline.com Style & Beauty Editor
These Hollywood stars aren't just sexy -- they are published authors! RadarOnline.com is honoring the hottest bodies on the beach, who have penned biographies, novels, cookbooks and self-help books, in this special photo feature!
Eva Longoria and Gwyneth Paltrow may have flawless figures, but don't let their perfect bikini bods fool you-- they love to eat! Both of the bombshells published cookbooks in April 2011, revealing all of their favorite recipes.
Article continues below advertisement
Talk about having the 'write' stuff, Chelsea Handler and Jenny McCarthy are funny blondes who have made the bestseller list! While Chelsea's latest Lies Chelsea Handler Told Me skyrocked to the top shortly after publication, Jenny's books about motherhood, her experience with her son's autism and love and sex have earned her the big bucks.
Want to find out everything there is to know about America's curviest family? Then pick up a copy of Kardashian Konfidential, where Kourtney, Khloe and Kim reveal all their sexiest secrets!