Game Over? Kelly Osbourne Compliments Christina Aguilera After Longtime Catfight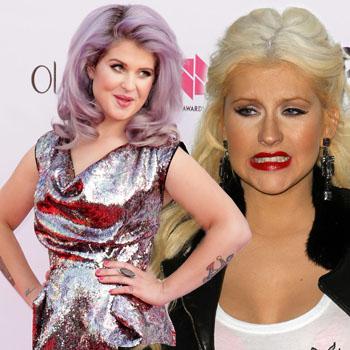 From foe to friend?
After years of publically feuding with Christina Aguilera, Kelly Osbourne is calling a truce – sort of! During a Plead the Fifth segment on Watch What Happens Live, the Fashion Police host was forced to say three nice things about her rival – and she did.
"You and my girl Christina Aguilera have been in something of a feud," host Andy Cohen quipped. "Say three nice things about Christina Aguilera."
Article continues below advertisement
"I think she's looking way better right now, she's got a great voice and she's got a beautiful son," Kelly responded with a straight face.
Aguilera and Osbourne have been at odds for several years, with their famous feud dating back to 2002, when Kelly slammed the singer on The Osbournes TV show.
In August 2011, Osbourne took stabs at the singer's recent weight gain on her hit show.
"Maybe she is just becoming the fat b*tch she was born to be. I don't know. She was a c**t to me. She called me fat for so many f***ing years," she continued, "so you know what? F**k you, you're fat too."
MORE ON:
Christina Aguilera
In April 2012, she refused to relent during an interview with Glamour.
"Sometimes it's other people's voices you have to shut out. That's what happened with me and Christina Aguilera, which people don't understand. She called me fat for years," Kelly explained.
"One night on Fashion Police I said, 'F—k you. Now you're fat too.' I didn't say I wasn't fat. I said, 'Now you know how it feels.' And I'm sorry, but I stand by that. I make a point on the show never to say anything about anybody that I wouldn't say directly to their face. I'm famous, and she's famous; it doesn't mean I can't stand up for myself."