Christina Aguilera Performs At Etta James Funeral In Cleavage-Baring Outfit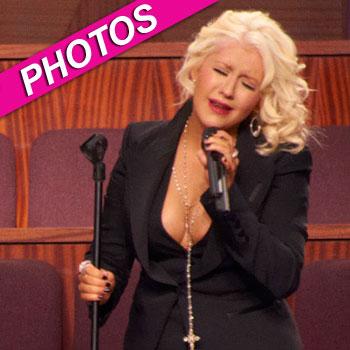 Maybe she just couldn't help herself. Christina Aguilera let it all hang out while performing Etta James' trademark song, At Last, at the music legend's funeral on Saturday.
At first glance, Aguilera's outfit seemed funeral-appropriate. The Voice star wore a black suit with plain black heels. But look again! The jacket to her suit had a cleavage-baring design more appropriate for a nightclub!
Article continues below advertisement
James died on January 20 after a two-year battle against leukemia. "She was a force to be reckoned with," Aguilera said.
RELATED STORIES:
Christina Aguilera's Rep Says Hacker Leaked Scantily Clad Photos
EXCLUSIVE: Christina Aguilera's Estranged Husband Won't Move Out Of Their Home
EXCLUSIVE: Christina Aguilera Turned To Sam Ronson During Crumbling Marriage