Jury Selected In Jennifer Hudson's Family Murder Trial, She Is On Witness List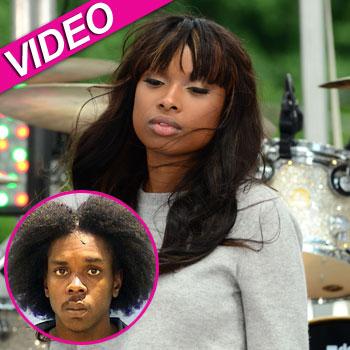 By Debbie Emery - RadarOnline.com Reporter
The man suspected of killing Jennifer Hudson's family appeared in a Chicago court on Thursday to face the potential jurors in his murder trial, and those being considered to decide his fate gasped when they realized that they were involved in the high-profile celebrity murder case.
The presence of William Balfour, who is accused of slaying the Dreamgirls star's mother, brother and nephew more than three years ago, caused 20 people to stand up and leave the courtroom when Judge Charles Burns asked if anyone would be unable to decide the case without "sympathy, bias or prejudice," reported the Chicago Tribune.
Article continues below advertisement
They were even more shocked when the former American Idol contestant's name was read out as a potential witness, as RadarOnline.com exclusively revealed last December. "Is that Jennifer Hudson, the actress?" one man marveled.
By February, defense attorney Amy Thompson was seeking out Jennifer regarding text messages that were exchanged with her mother, Darnell Hudson Donerson, around the time of her fatal shooting.
Included in the paperwork that the potential jurors were asked to fill out were questions about knowledge of the singer's career, if they are fans of her work and whether they have followed the media coverage of the murders. They will be questioned individually by the judge on Monday and their identities kept secret until after a verdict is reached.
The opening statements in Balfour's trial are scheduled for April 23 when he will face charges of murder, aggravated kidnapping and home invasion in the October 24, 2008 deaths of Donerson, 57; Jason Hudson, 29; and Julian King, 7. At the time of the killings, he was the estranged husband of Jennifer's sister, Julia.