Who's That Girl? Heidi Klum Is Unrecognizable In Teenage Model Pic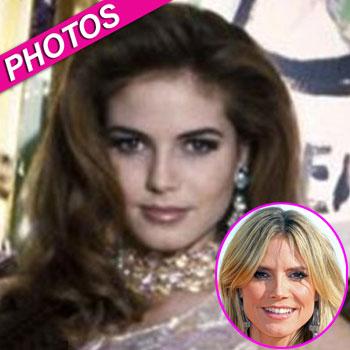 Supermodel Heidi Klum wasn't always the blonde beauty we've come to know and love.
The mother of four tweeted a pic of herself and you might not believe it's her!
In the photo, Heidi, who was just 19 at the time, looks so different as a brunette! She's wearing a prom dress with lavish jewels lying on a bed surrounded by stuffed animals.
The soon-to-be divorcée Tweeted the pic to her followers with the message, "Wow! Check out this picture from 1992. One of my very first photo shoots. This is my original hair color!"
Article continues below advertisement
Although the 38-year-old's appearance today is drastically different from her early modeling days, she has not had any work done and does not believe in plastic surgery.
As RadarOnline.com previously reported, she recently told Allure magazine: "I'm proud to be able to say, in this day and age, I haven't done anything. Everyone has a view of what's not pretty and plastic surgery just doesn't look pretty to me. Especially when I see it on really young girls."