Can You Believe She's Had Four Kids? Naked Heidi Klum Shows Off Amazing Body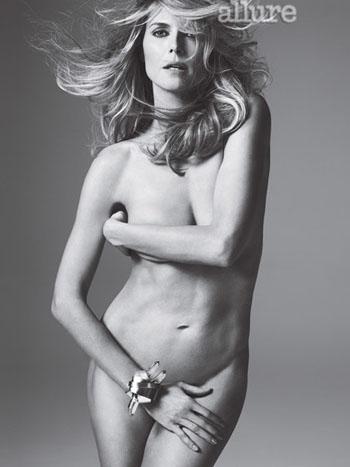 Guess this is why, at 38, Heidi Klum can still command the modeling big bucks!
The gorgeous mother-of-four strips down naked for the May issue of Allure magazine, and opens up about her split from Seal, her career struggles and why she's never gone under the knife — and RadarOnline.com has the interview highlights.
"I had dreams of how I wanted things to be and planned for things and, as we all know today, they don't always turn out as you dreamt them in your head," she says of her painful divorce.
Article continues below advertisement
"Sometimes life throws you a curveball and then you just figure it out and deal with it, but my dream always was that – to have the perfect family and have lots of children and a beautiful garden and trampolines and swings and things."
As RadarOnline.com previously reported, the German model announced she was splitting from her husband of seven years back in January and the news shocked Hollywood.
"While we have enjoyed seven very loving, loyal and happy years of marriage, after much soul searching we have decided to separate," the former couple said in a joint statement. "We have had the deepest respect for one another throughout our relationship and continue to love each other very much, but we have grown apart."
But, although her "perfect marriage" crumbled, Klum tells Allure that she has no regrets. "No, I don't resent anything that ever happened," she says. "Things just turn out the way they turn out."
Amazingly, Klum reveals that before she hit the big time as a Victoria's Secret model she struggled in her career. "I never did fashion shows—not in Paris or Berlin or even in New York City. I tried, but no one would book me," she says. Even her Project Runway cohost, Michael Kors, who, she says, saw her in his clothes when she was 20 and said, "Thanks, but no thanks."
Article continues below advertisement
And, although she's pushing 40 don't expect the gorgeous blonde to get any help from the surgeons anytime soon when it comes to her million dollar face and body.
"I'm proud to be able to say, in this day and age, I haven't done anything," Klum says. "Everyone has a view of what's not pretty and plastic surgery just doesn't look pretty to me."
RELATED STORIES:
Heidi Klum Files For Divorce From Seal
Kim Kardashian 'I Don't Believe In Just One Soulmate'