Charlie Sheen Pokes Fun At His Drugs & Boozing Past In New Ad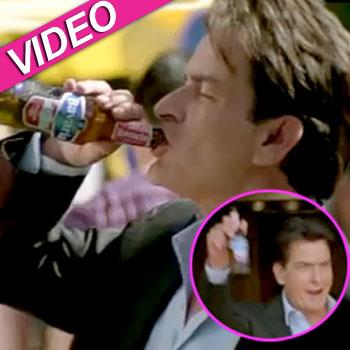 Charlie Sheen is poking fun at his alcoholic and rehab past by filming a Dutch commercial for non-alcoholic beer, Bavaria, and RadarOnline.com has the ad.
The 46-year-old actor is seen leaving rehab in the European TV spot as his doctor warns him about maintaining his sobriety.
"We don't want to see you back here again, Charlie," the white-coated physician says.
"Don't worry," Charlie quips with a smile. "Let's not have a drink sometime."
Article continues below advertisement
But as he drives away from the facility, he notices that everyone is swigging bottles of beer including police officers, construction workers and even pregnant women.
Charlie is further bemused when he arrives at his house to find tons of his friends in his backyard for his Welcome Home party drinking beer too.
"What the f**k?" the Anger Management star mumbles before realizing he's safe to drink the 0.0 percent alcohol beverage and joins in the party.
It's all a bit of lighthearted fun as he pokes fun at his past addiction troubles, but, as RadarOnline previously reported, Dr. Drew Pinsky believes that the former Two and a Half Men star needs to start getting serious about his issues.
The renown doc told RadarOnline.com that he believes Sheen is "holding a loaded gun in his hands" by refusing to lead a sober life and continuing to drink alcohol despite his prior addictions.
WARNING VIDEO CONTAINS EXPLICIT LANGUAGE – Watch Charlie Sheen's alcohol free beer commercial right here on RadarOnline.com.