Celebrities Aren't Perfect! 10 More Stars Who Have Cellulite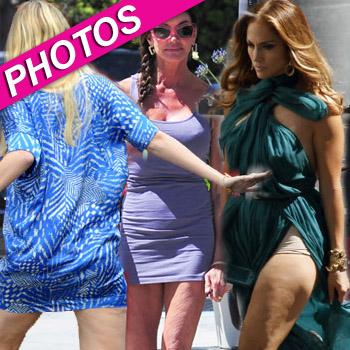 There are more stars that have cellulite than you might think!
Hollywood's hottest celebrities are often celebrated for their perfect bodies, but don't be fooled – they have flaws too! RadarOnline.com has 10 more photos of famous females showing off their imperfect, cellulite-riddled bodies in sexy attire.
Pippa Middleton, aka 'Her Royal Hotness', may have the most celebrated booty of the year, but even the sizzling hot Brit has flawed features, including cellulite on her legs.
Article continues below advertisement
You can get plastic surgery to fix almost anything, but not cellulite! Former supermodel Janice Dickinson has copped to going under the knife multiple times, but even the most experienced doctors in the world can't help her with the little lumps on her legs.
Alicia Keys, Jennifer Lopez and Beyoncé are all Bootylicious, hot mamas, but even the Grammy Award winning singers have imperfections on their bodies.
And Maria Menounos may be grabbing headlines for her bangin' Dancing with the Stars body, but even the twinkle toed on-air personality has some cellulite on her superior stems.
What other stars have cellulite? Find out by clicking here.