Whitney Death Investigation: Witness Accuses Houston Associate Of Dealing Cocaine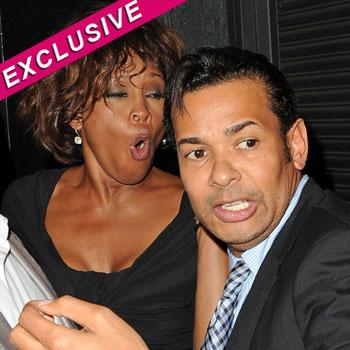 Article continues below advertisement
"The witness provided police with a sworn declaration that was handed over to the BHPD detectives this morning by the witness' attorney, Ronald Richards. The sworn declaration has very precise and first hand knowledge of Raffles Van Exel's drug trafficking, particularly, cocaine. The mystery witness believes that Van Exel was one of Whitney Houston's suppliers for cocaine, " a law enforcement source tells RadarOnline.com.
The focus of Whitney Houston's death investigation is now squarely focused on Raffles Van Exel.
"Whitney's family, including her sister-in-law Pat Houston had absolutely no idea that Whitney was using drugs again," a law enforcement source previously told RadarOnline.com. "The family has been extremely cooperative and they have been told that investigators want to speak to Raffles Van Exel about allegedly removing evidence from Whitney's hotel room. The cops want to know who provided Whitney with the cocaine, but if someone tampered with the death scene, well, that could be against the law in California. Investigators have tried to make contact with Van Exel, but have been unable to do so. Since Van Exel is from the Netherlands, investigators assume that he may no longer be in the United States, and they very much want to talk to him."
Article continues below advertisement
According to the website, Diary of a Hollywood Street King, Van Exel admitted to Dutch newspaper De Telegraaf that he cleaned out Whitney's hotel room after she died. According to a translation of the interview, he removed clothes and belongings of Whitney's and swept the room as well. "Someone had to do it. The room was empty," Van Exel allegedly said.
Van Exel has denied the quotes though, telling the National Enquirer, "That's ridiculous. I did get a call from a station (in Holland) a couple of days ago after Whitney died and spoke about her death in generalities. But of course I didn't say that."